okay, this is some info that should really be shared, and it's about what is called the "No-Zone"
when you're driving on the road, you need to be careful about those massive trucks that drive around, sometimes the highway, interstate, whatever.  it is much more difficult to drive them than people think.  the driver relies almost entirely on their sideview mirros (on each side of the truck) - they have no rearview mirror.  this gives them an enormous blind spot, and if they don't see anything in their mirrors, they think they're good.  that's what the picture above is for.  those are the places where a tractor-trailer driver can't see you.
the one in the back is also really important.  it takes a tractor-trailer a little more time to slow down compared to a car.  my father drove these for a number of years, and he says that it could take about 10 feet (4 meters) to come to a full stop.  but a tanker is even worse - that can add another push the truck 5 feet forward after it's already come to a stop.  that's why tailgating a truck is such a bad idea.  i found some pics of what happens when you tailgate a truck and it suddenly comes to a stop
you know what is supposed to go in the spots that are now crushed by the truck?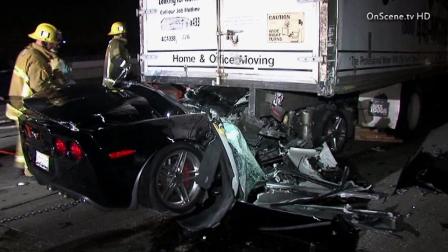 you're head
i don't think i've ever made an "important post", but this is definitely one of them.  please like and reblog, someone might see this and live to see another day, instead of a trailer bumper
fl0atlik3abutt3rfly reblogged this from soundz-of-soul